The Laptop Program Stories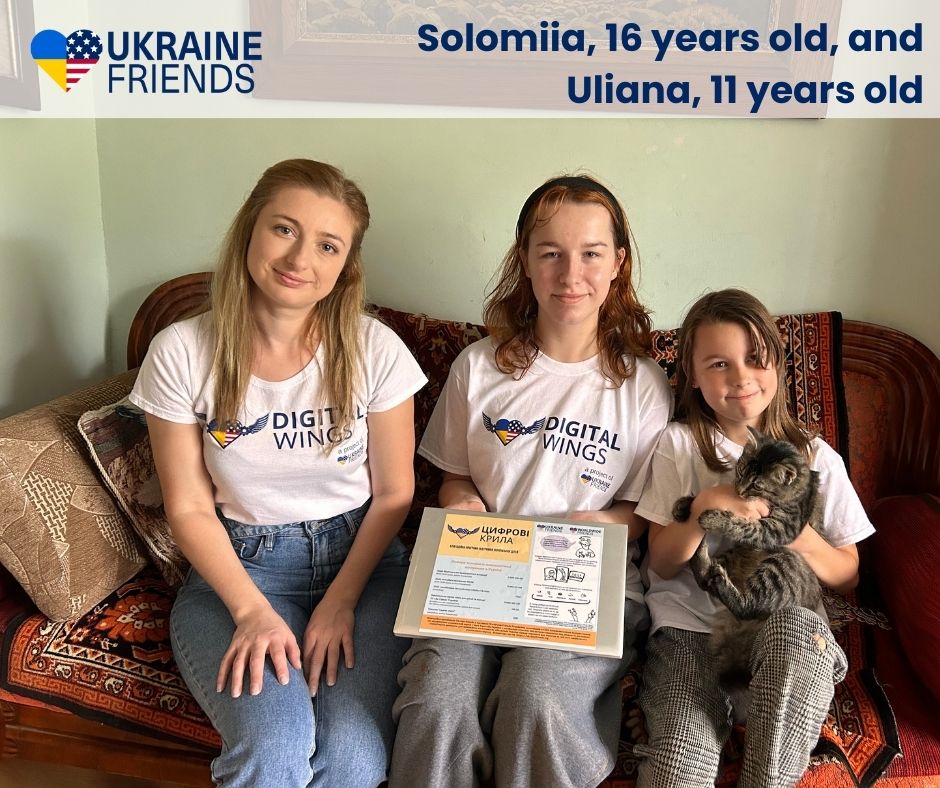 Laptops for Solomiia and Uliana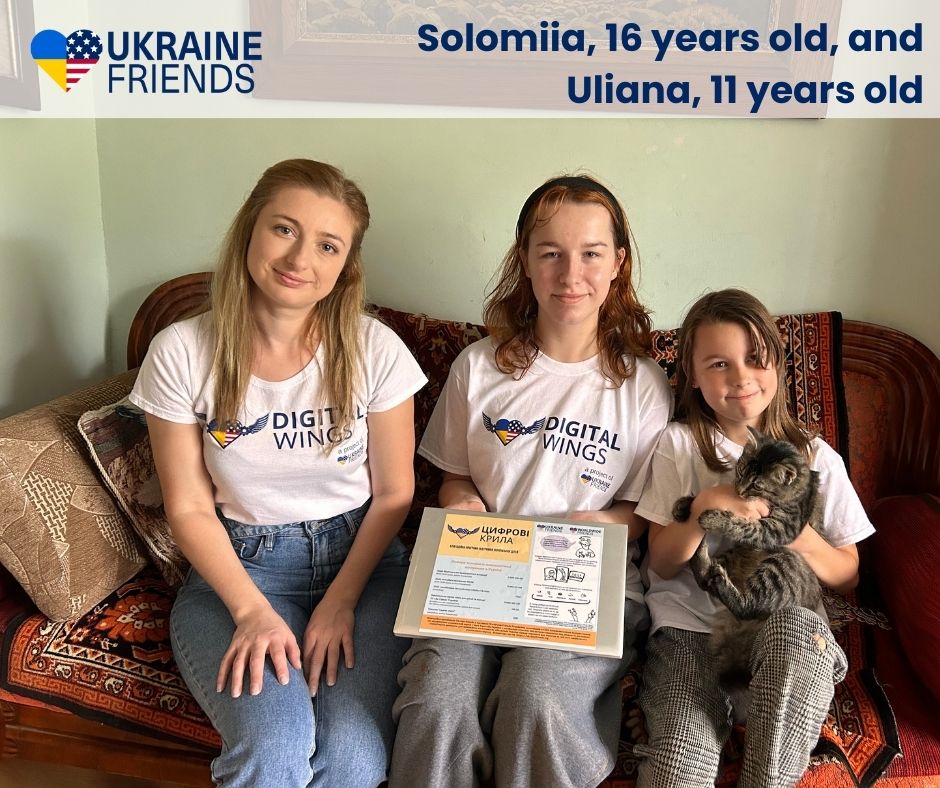 Laptops for Solomiia and Uliana
Solomiia, 16 years old, and Uliana, 11 years old
Their father joined the Ukrainian military on the first day of the full-scale invasion to defend his country. It was the last time the girls saw their father, as he was killed in October 2022 in the Kherson region. Currently, the mother is taking care of both daughters and their elderly grandmother.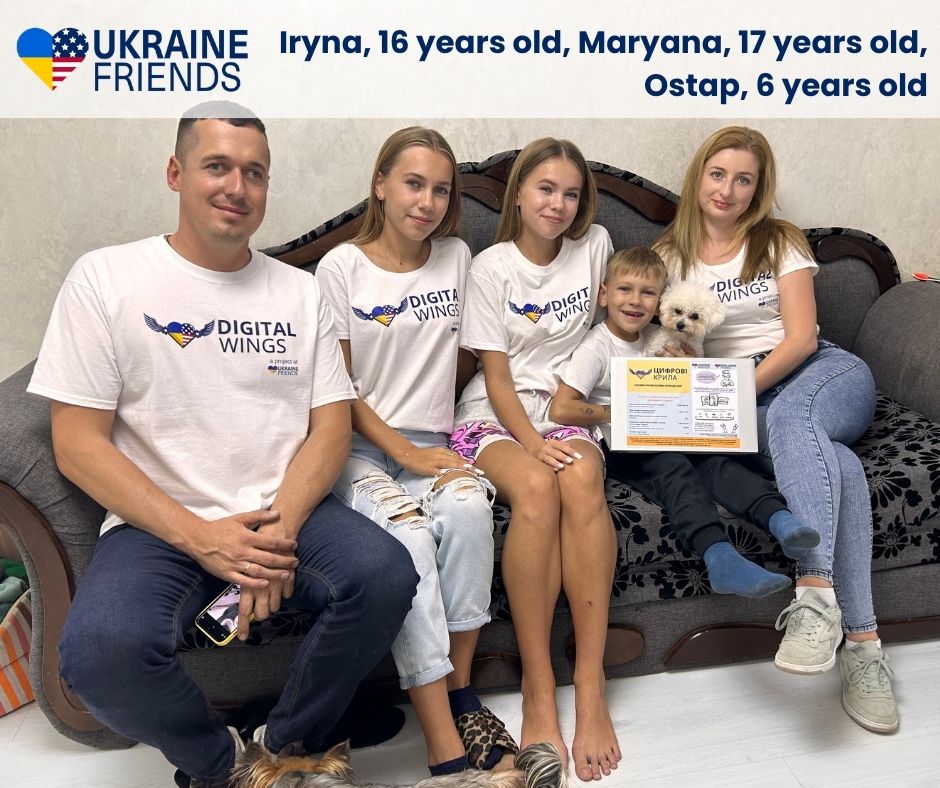 Laptops for Iryna, Maryana and Ostap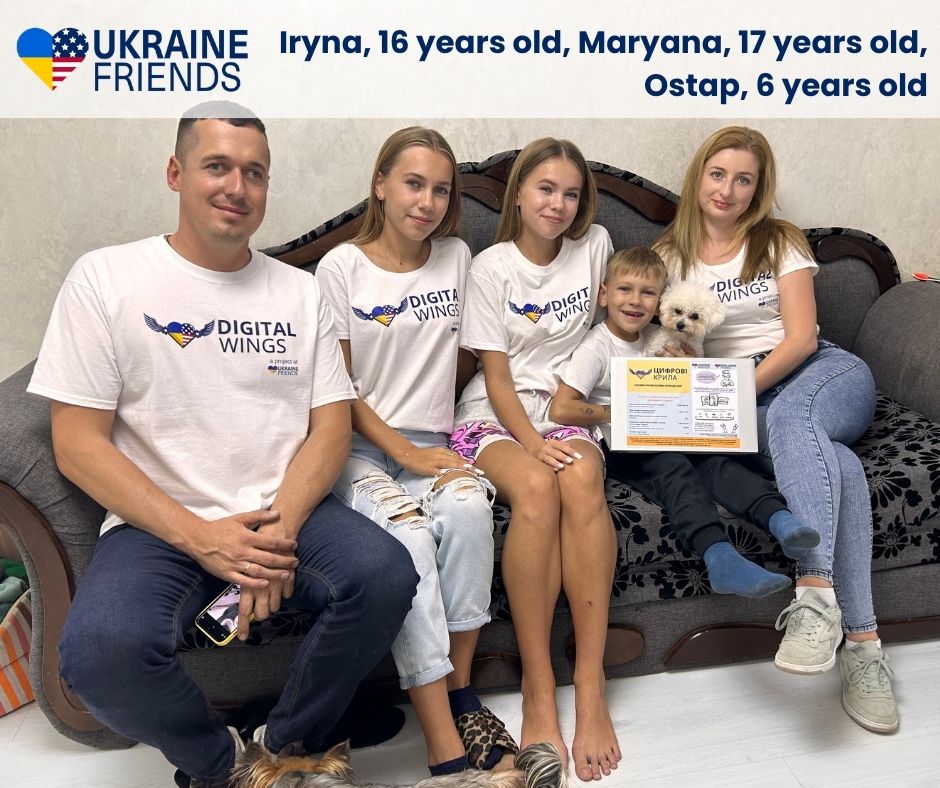 Laptops for Iryna, Maryana and Ostap
Our team has conducted multiple laptop deliveries this week, and we continue to hear the heartbreaking stories of the families of the fallen defenders.
This story is about Iryna, 16 years old, Maryana, 17 years old, and Ostap, 6 years old.
The father of these 3 kids was killed in the war in 2022. What surprised our team was that despite losing the father, the children remained very positive and had a positive attitude towards their future. Irina wants to become a doctor, her older sister wants to be a lawyer, and Ostap wants to become a police officer.
We hope that the laptop will help them in their professional aspirations.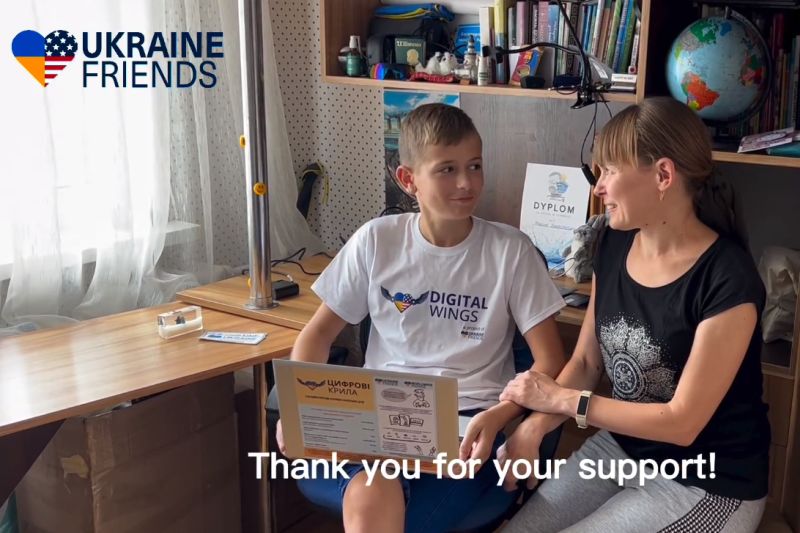 Laptop Delivery to Maksym
Lviv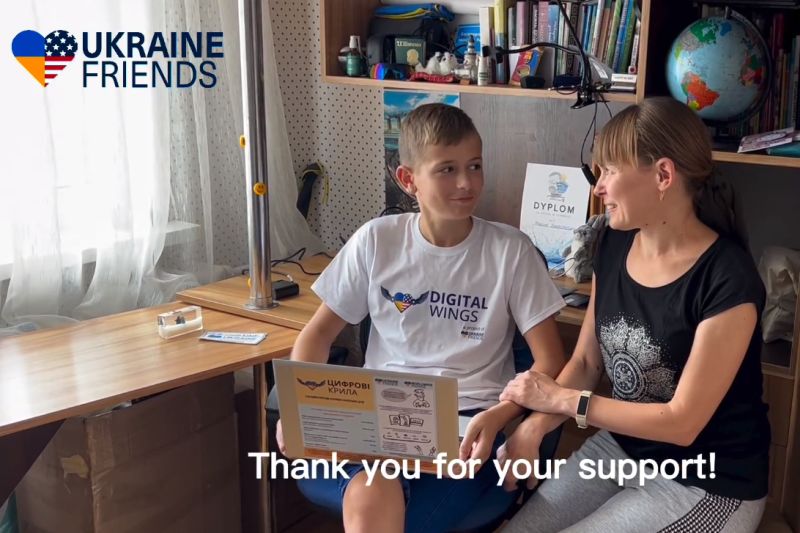 Laptop Delivery to Maksym
Lviv
As the Ukraine Friends team continues to organize multiple laptop deliveries daily, we are learning about the stories of more and more Ukrainian families that reflect the pain and horror of this war. Here is another story of the Ukrainian Hero's family:
Maksym's father Taras was a first-line reservist and, in 2014-2015, he fought in the defense of the Luhansk Airport in the East of Ukraine. On the first day of the full-scale invasion, he set out to defend his homeland as part of the airborne assault forces. Tragically, he lost his life on July 18, 2022, while saving his comrades from shelling near Bakhmut. He was awarded the Orders for Courage of the II and III degrees.
His son Maksym is 13 years old, and he is a very talented boy. He is a multiple-time water polo medalist and is also studying at an IT school to become a programmer in the future, so that the laptop will help him to pursue his career dreams. Currently, Maksym lives in Lviv with his mother Olesya and a 5-year-old sister.
If you would like to contribute to our efforts in assisting more Ukrainian families who require support for remote education, kindly consider making a donation through our website.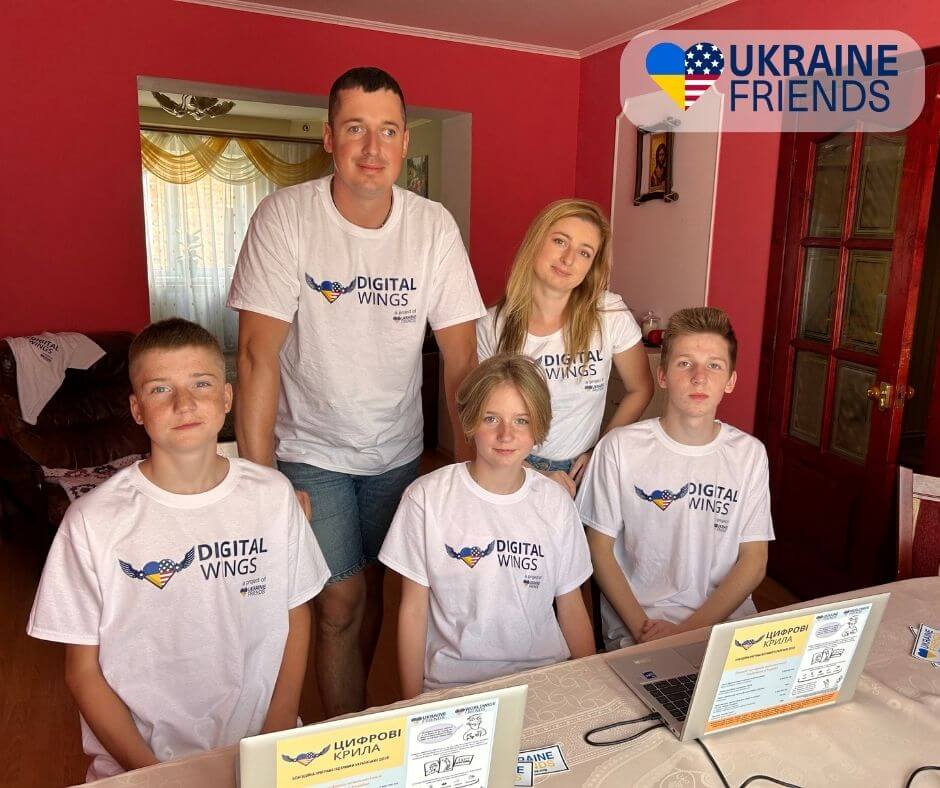 Laptops for 4 children of Ukrainian defender
Kyiv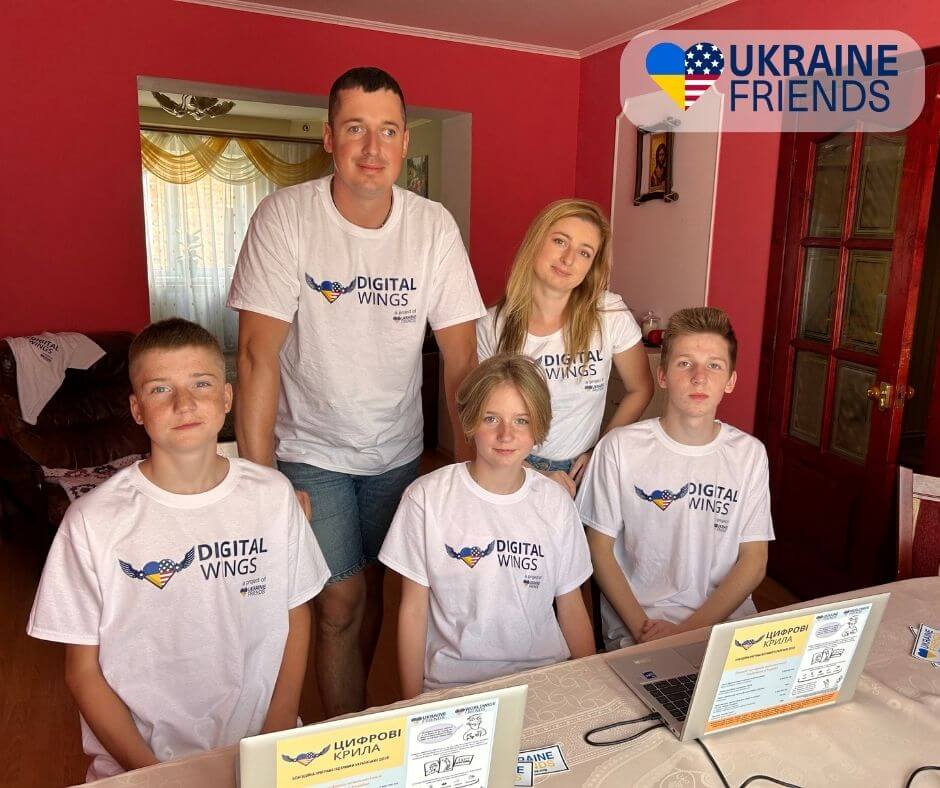 Laptops for 4 children of Ukrainian defender
Kyiv
The Ukraine Friends team visits another Ukrainian defender's family to deliver laptops to the children to assist with their remote learning for the academic year.
Andriy Ganych, a father of four children, voluntarily joined the Ukrainian Army in March 2022 to protect his country from invasion. Unfortunately, Andriy passed away on July 13, 2022, in the Mykolaiv region under unclear circumstances.
Currently, his wife, Oksana, is caring for their four children: Danylo (16 years old), Andriy (14 years old), Yeva (13 years old), and their 6-year-old sister who attends kindergarten.
Our team has provided two laptops to the family to support the children's education since their mother is now the sole caregiver.
If you want to help us support more Ukrainian families that are currently in need of support with remote schooling, please donate on our website.
If you know of any child in Ukraine that you think can benefit from this program, please share this link with them to apply for receiving a laptop.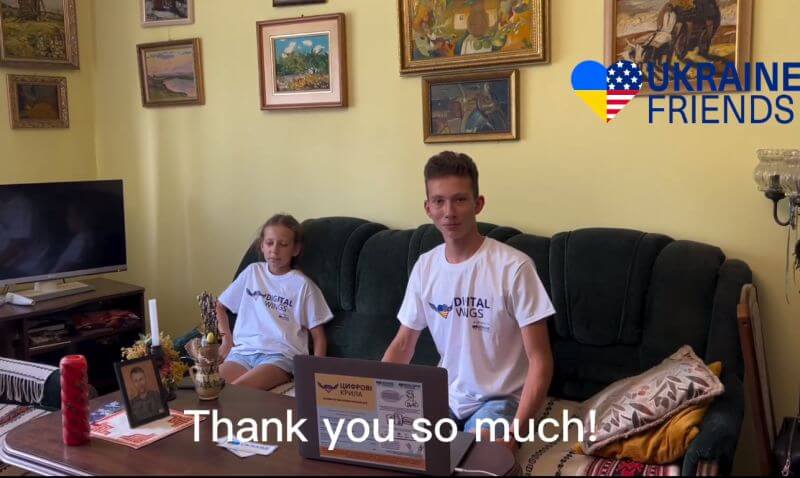 Laptop Delivery For Ostap
Lviv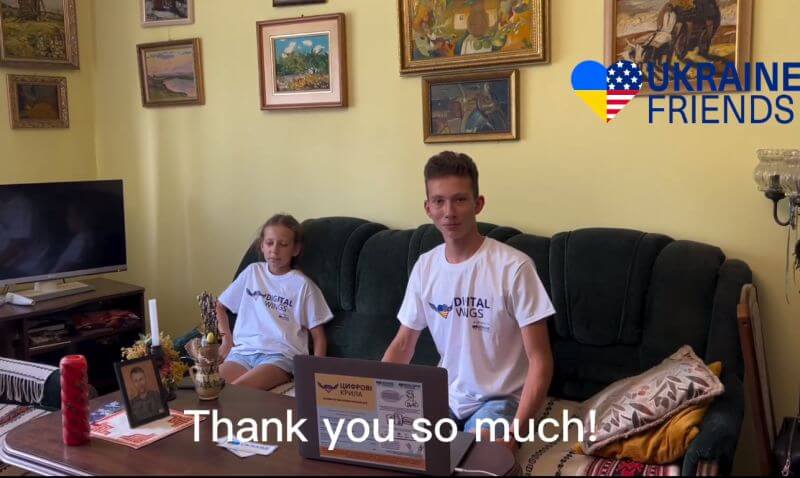 Laptop Delivery For Ostap
Lviv
As our team continues to deliver #laptops directly to the children in Ukraine who have lost one or both of their parents due to the war, we have the opportunity to hear more of their stories.
Mykhailo, the father of Ostap and his sister, was a scientist and worked as a lecturer at Ivan Franko Lviv National University. He was actively involved in developing programs to promote tourism in the Carpathian region. However, with the outbreak of the full-scale invasion in February 2022, he voluntarily joined the Armed Forces of Ukraine. On August 18th, he heroically lost his life while fulfilling his duties in the Mykolaiv region.
His son, Ostap, intends to continue the family tradition in the field of science. Next year, he will be applying to Ivan Franko University, where his father used to teach. Ostap wants to get a degree in hospitality and tourism to follow his father's career path. His younger sister is currently attending school and still has time to choose her own path in the future.
Currently, both children, along with their mother, reside in Lviv. The family expresses sincere gratitude to the Ukraine Friends team and our partners for delivering a laptop, as this gift will help the children continue their education during these challenging times.
Please consider supporting our project with a donation, if you want to help more children in Ukraine continue their studies this academic year.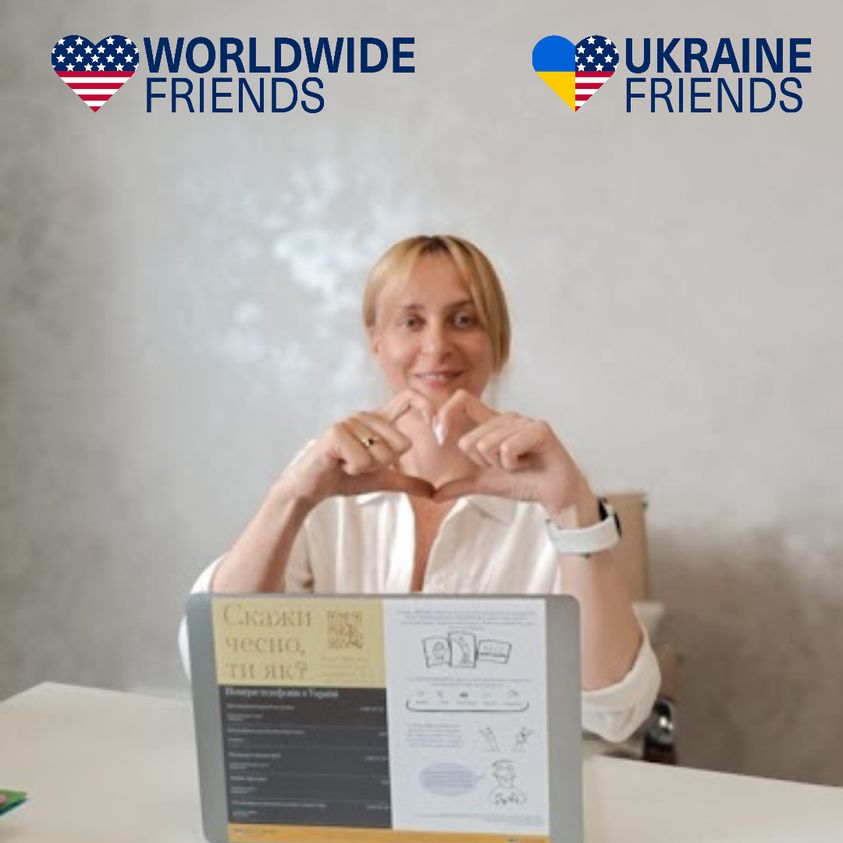 Laptop for Svitlana from LifeChanger
Kyiv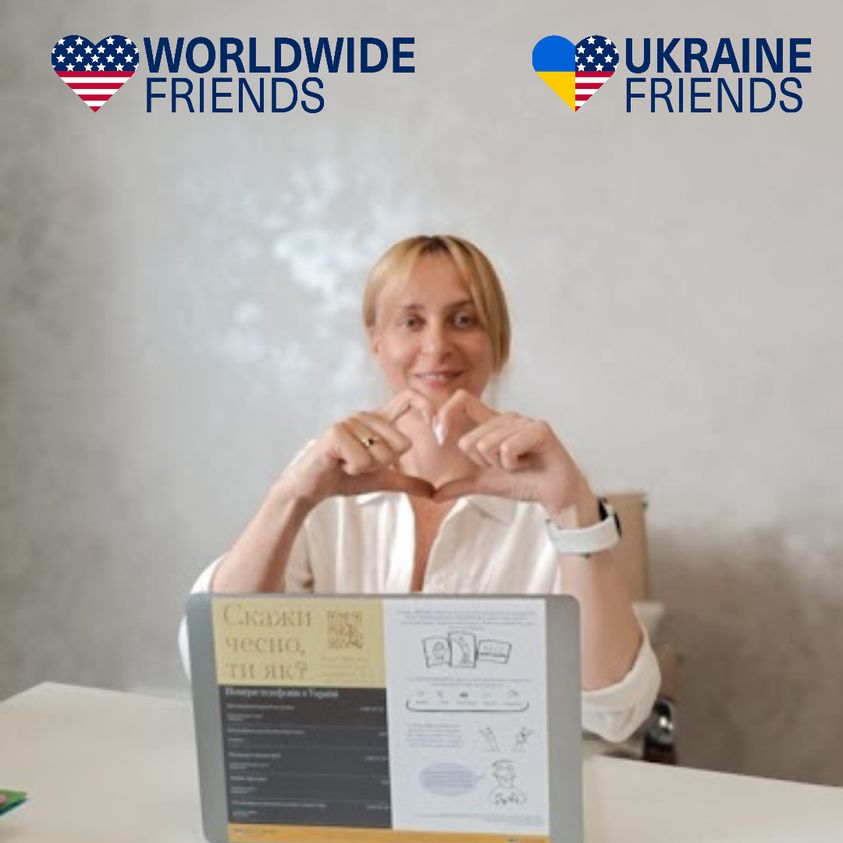 Laptop for Svitlana from LifeChanger
Kyiv
A laptop is more than just a technical tool.
When our CEO, Joe Sullivan, visited Ukraine in September 2023, he teamed with two amazing organizations — LifeChanger and Jewish Relief Network Ukraine —to deliver laptops and facilitate their work of supporting Ukraine on the ground.
Svitlana, Program coordinator of CO CF "LifeChanger", who covers over 1,000 requests of people in need daily, shared what the laptop means to her:
"War, apartment, anxiety, storage, minibus, office and constant companion – #laptop. Winter. Black outs and again a constant laptop companion.
At some point, I understood that my companion, a tool without which the implementation of important processes in my work is impossible, could not withstand the load/voltage interruptions. This means that the workflow has slowed down and then stopped altogether – this is a threat to getting a request from people in a timely manner, finding opportunities for them, and providing the necessary help. Every minute counts today.
Serviceable equipment means timely help. Today's rhythm is dozens of simultaneously open resources, dozens of potential opportunities for those who need them. What a laptop means to me is mobility, speed and efficiency.
That is why, in this difficult time for me and my country, I am infinitely grateful for YOUR support and help. I am grateful for the opportunity to continue helping those who need it most. People with chronic diseases receive the necessary medication, children in crisis receive the necessary medical care, psychological help and support from tutors. All this is possible when your tool-laptop is working. This is possible now thanks to you! THANK YOU!"
Please consider helping us continue to support the humanitarian needs of people in Ukraine.