One of the simplest yet most impactful ways to support Ukraine Friends is by making a financial donation. Ukraine Friends is by making a financial donation. Whether it's a one-time gift or a recurring monthly donation, financial contributions provide us with the necessary resources to sustain our operations, launch new initiatives, and support those in need. Every donation, no matter how big or small, can make a significant difference in the lives of others.
Credit card
Safely donate via a credit card through a secure platform.
PayPal
Donate through PayPal using your own account or a credit card.
Donate through a DAF
Donating through a Donor-Advised Fund (DAF) is a strategic and flexible way to support charities.
Check / Wire
Safely donate using a check or wire transfer.
Donate Stocks
By leveraging your investments for charitable purposes, you can make a substantial impact while optimizing your financial resources.
Donate Laptops
Ukraine Friends is collecting gently used laptops and financial donations, directly delivering them to those who need them. Ask your employer if they have gently used laptops available to donate.
Workplace Giving Programs
Enable individuals to donate a portion of their salary regularly, providing ongoing support to their chosen charities. 
Matching Gift Programs
Match their employees' donations to eligible charities. Your contributions can have double the impact, effectively doubling the amount donated to the charity.
Host a fundraiser
Hosting a fundraiser at your home is an effective way to rally friends, family, and community members to support a charity.
Facebook fundraiser
With the help of social media, you can create a Facebook fundraiser that is both efficient and effective in raising funds, while also raising awareness about Ukraine Friends.
Ebay Fundraiser
Selling items on eBay is a way to support Ukraine Friends while decluttering your home. Create an eBay account, list your items, and designate a percentage or the entire sale amount to be donated to the charity of your choice.
Student led Fundraiser
By leveraging their networks and creativity, students can raise funds through activities like bake sales, talent shows, charity runs, or crowdfunding campaigns.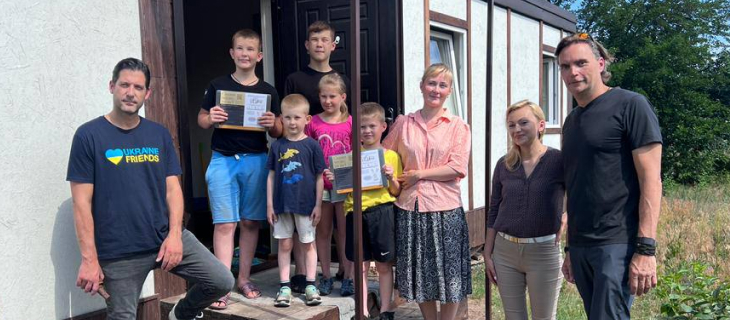 Help Us Help Ukraine